Today's Angel Card Is…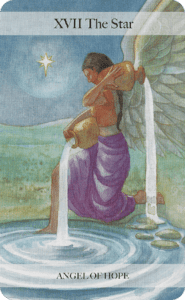 The Star: Angel of Hope
Oh the possibilities are endless when you wish upon a star. When was the last time you wholeheartedly had hope, optimism, and faith in your vision? Today's card invites you into a space of abundant possibility. Take a deep breath and savor the moment; you've gone through a major transformation, and now it's time to celebrate your success.
Creativity and beauty abound today. This nourishing energy intends to restore your spirit. The Angel of Hope brings you the opportunity for renewal, healing, and actualizing your dreams. You'll notice stress melting away, as you sync into a more fluid state of being. Here, your emotions are feeling expressed and your insight is deeply valued and appreciated by those around you.
This is one of the most uplifting cards in the whole deck; a wonderful omen for the new opportunities that are coming to you. Your commitment to healing and growth is manifesting in the world now. Allow your heart to radiate the joy of receiving these many blessings.
As you emerge from this spiritual renewal, you'll subtly be shifting the way you express yourself. Maybe you feel more creative, beautiful, or optimistic. You've successfully undergone the spiritual transformation, after a long period of wishing and hoping, and you can blissfully enjoy what you've brought to fruition.
Love & Blessings